Heavy Duty (HD) belt feeders but are designed to be used beneath large, Bin Activator fitted storage bins. Heavy-Duty models operate in continuous service and handle large volumes of materials such as sawdust, ores, sand, lime and cement as well as chemicals and foods. These feeders work with any size of Vibra Screw Bin Activator, Live Bin, or Live Bottom Bin. Five models provide maximum feed rates of 70, 400, 1,200, 2,400 and 4,800 cubic feet per hour. Belt conveyor widths are 12, 18 and 36 inches. .
Specifications
Contact Materials:
Carbon Steel
304 Stainless Steel
316 Stainless steel
External Support Brackets:
Carbon Steel
Coatings:
Standard external: Epoxy Paints. Corrosion-resistant paints. Customer-specified special paints or colors.
Standard internal: Rust preventive coating. Carbon steel contact surfaces. Stainless, uncoated.
Optional internal: Nozzle and doctor blade only. Teflon coatings (DuPont), as specified.
Belt Material
Standard: 3-ply reinforced 1/8″ thick Neoprene
Optional White food grade Neoprene or Hycar. Teflon coated Hycar.
Belt Support
Carbon steel frame. Sealed outboard ball bearings on pulleys. Neoprene Skirtboards
Drives
Standard, Type HD DC Motor mounted on gear reducer, SCR controller (louvered enclosure), manual potentiometer control for belt speed
Optional,Type HD Control modified to accept external signals 1-5 vac, 4-20 ma., 10-50 ma. Constant speed motor. Explosion proof motor. Special motors
Discharge Nozzle
Standard, Type HD Carbon or stainless steel to match supply bin. Fixed outlet.
Optional, Type HD Manual adjustable gate for constant speed drive.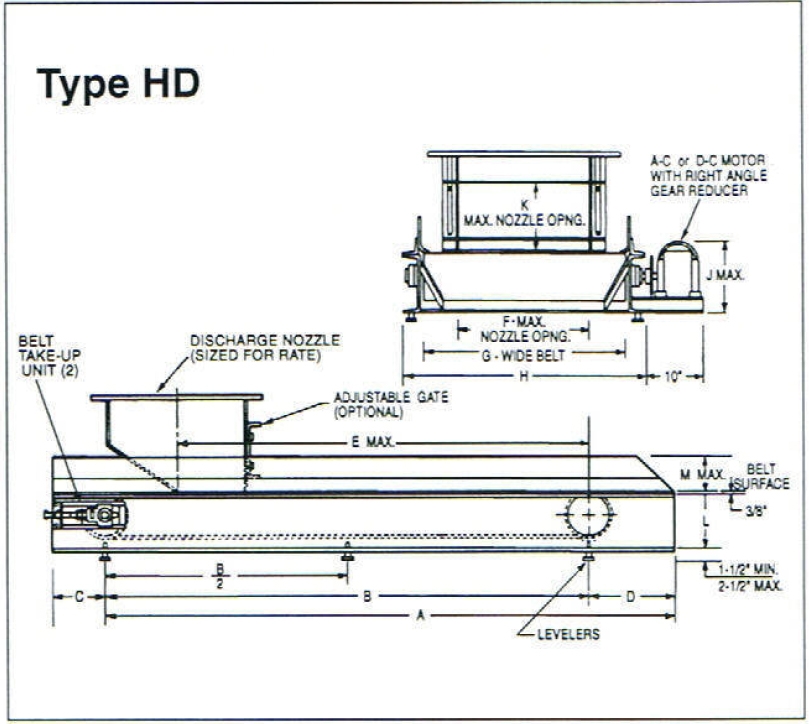 (mm)
Model
A
B
C
D
E
F
G
H
J
K
L
M
400
50 (1270)
36 (914)
4 1/2 (114)
9 1/2 (241)
34 (863)
8 (201)
12 (305)
16 1/2 (419)
10 1/2 (267)
4 (102)
6 (152)
4 (102)
1200
70 (1778)
54 (1372)
6 (152)
10 (254)
52 (1321)
12 (305)
18 (457)
23 (584)
11 1/2 (292)
6 (152)
8 (201)
4 (102)
2400
96 (2438)
72 (1829)
9 (229)
15 (381)
70 (1778)
30 (762)
36 (914)
41 3/4 (1060)
12 1/2 (318)
12 (305)
10 (254)
9 (229)
4800
114 (2896)
96 (2438)
10 (254)
18 (457)
94 (2388)
40 (1016)
48 (1219)
54 3/8 (1381)
20 3/8 (518)
12 (305)
12 (305)
9 (229)
Product News
New Vibra Screw LBB Volumetric Feeder Combines Accuracy with Economic Simplicity combines the accuracy of a weigh feeder with the economic simplicity of a volumetric device. The LBB Volumetric Feeder's unique design features the positive hoppering of an on-board Vibra Screw bin activator with a patented nozzle that uniformly delivers material to the feeder's belt. Since […]