The Vibra Screw Type LBB Volumetric Belt Feeder is an integrated unit consisting of Live Bottom Bin, integral vibrating nozzle with adjustable gate, and a constant speed continuous belt conveyor. It offers a distinct advantage in handling abrasive, waxy and pressure sensitive materials. Bin discharge is through a vibrated nozzle, available in widths from 1 to 6 inches, onto a 7 inch wide belt conveyor. Maximum feed rate is 75 cubic feet per hour.

A precision slide gate with micrometer adjustments gives the LBB feeder a normal operating range of 20:1. A greater range is possible by varying the belt speed. Feed ranges of 100:1 are possible with one unit.
Specifications
Contact Materials:
Carbon Steel
304 Stainless Steel
316 Stainless steel
External Support Brackets:
Carbon Steel
Coatings:
Standard external: Epoxy Paints. Corrosion-resistant paints. Customer-specified special paints or colors.
Standard internal: Rust preventive coating. Carbon steel contact surfaces. Stainless, uncoated.
Optional internal: Nozzle and doctor blade only. Teflon coatings (DuPont), as specified.
Belt Material
Standard: 3-ply reinforced 1/8″ thick Neoprene
Optional White food grade Neoprene or Hycar. Teflon coated Hycar.
Belt Support
Carbon steel frame. Sealed outboard ball bearings on pulleys. Neoprene Skirtboards
Drives
Standard, Type LBB Single motor for belt drive and vibration, 230-460/3/60, chain and sprocket drive.
Optional, Type LBB Variable-speed DC motor. Explosion-proof motor
Discharge Nozzle
Standard, Type LBB Carbon or stainless steel to match supply bin. Micrometer gate adjustment, direct reading indicator.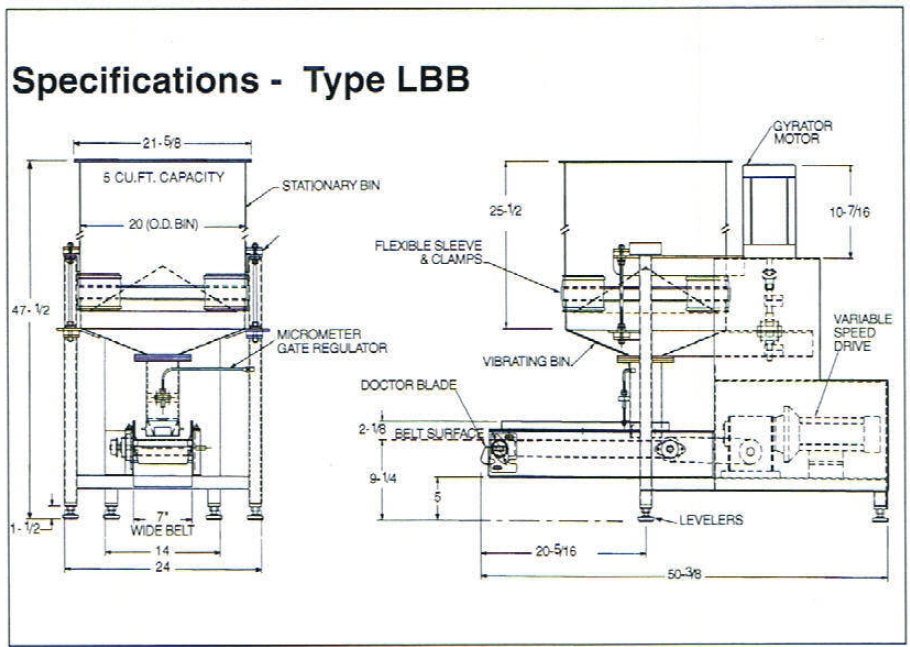 (mm)
Model
A
B
C
D
E
F
G
H
J
K
L
M
400
50 (1270)
36 (914)
4 1/2 (114)
9 1/2 (241)
34 (863)
8 (201)
12 (305)
16 1/2 (419)
10 1/2 (267)
4 (102)
6 (152)
4 (102)
1200
70 (1778)
54 (1372)
6 (152)
10 (254)
52 (1321)
12 (305)
18 (457)
23 (584)
11 1/2 (292)
6 (152)
8 (201)
4 (102)
2400
96 (2438)
72 (1829)
9 (229)
15 (381)
70 (1778)
30 (762)
36 (914)
41 3/4 (1060)
12 1/2 (318)
12 (305)
10 (254)
9 (229)
4800
114 (2896)
96 (2438)
10 (254)
18 (457)
94 (2388)
40 (1016)
48 (1219)
54 3/8 (1381)
20 3/8 (518)
12 (305)
12 (305)
9 (229)
Product News
New Vibra Screw LBB Volumetric Feeder Combines Accuracy with Economic Simplicity combines the accuracy of a weigh feeder with the economic simplicity of a volumetric device. The LBB Volumetric Feeder's unique design features the positive hoppering of an on-board Vibra Screw bin activator with a patented nozzle that uniformly delivers material to the feeder's belt. Since […]