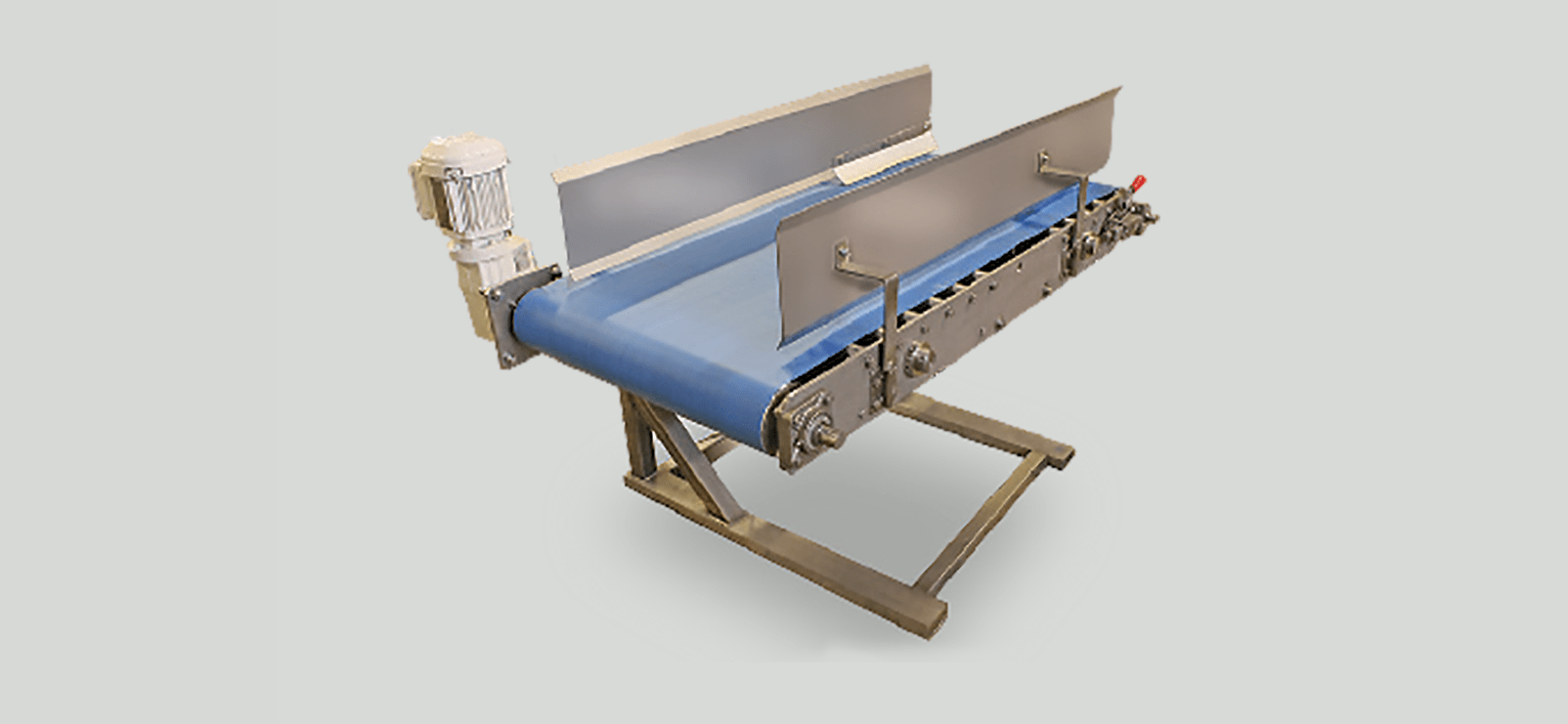 Vibra Screw Model VMWT-100 is a low-to-medium capacity weigh belt feeder or integrator that is ideal for minor ingredient additives in Plastic, Pharmaceutical, Food, Chemical, Tobacco, Feedstuff and Building material industries etc. Cantilevered mechanical design provides for no tools, quick belt removal and easy maintenance. It is designed to eliminate material build-up, assures reliability and high accuracy. The Model VMWT combined with Vibra Screw's line of positive discharge Bin Activators and Live Bottom Bins assures complete system reliability. We can help you choose a Weigh Belt with features that integrate into your new or existing systems. 
HOW IT WORKS ANIMATION
Click the Play Button

 in the center of the video to view.
Specifications
Standard Weightotaler Specifications:
Standard Features:
1) Enclosure:
A) Carbon steel painted enamel. B) Inlet nozzle with adjustable gate (c/s). C) Discharge nozzle (c/s). D) Levelers.
2) Enclosure:
A) Reinforced Neoprene B) Carbon steel slider bed and weigh idler support. C) Spiral grooved self-tracking and cleaning pulleys. D) Sealed ball bearings. E) Belt tracking limit switches.
3) Drive Motors:
A) Constant speed TEFC AC (Model WT) 115-230/1/60 or 230-460/3/60. B) Variable Speed DC (Model WTF) 115-230/1/50 or 115-230/1/60. C) Tachometer. D) Chain Drive.
4) Load Cell:
A) Strain Gauge type. B) 150% full overload protection. C) Max. operating temperature -40 °3F to 150 °F. D) Linearity 0.03% full scale.
Optional Features:
1) Enclosure: Optional
A) Special Painting. B) Stainless Steel. C) Sanitary. D) Open Construction. E) Cantilevered belt support for quick belt change.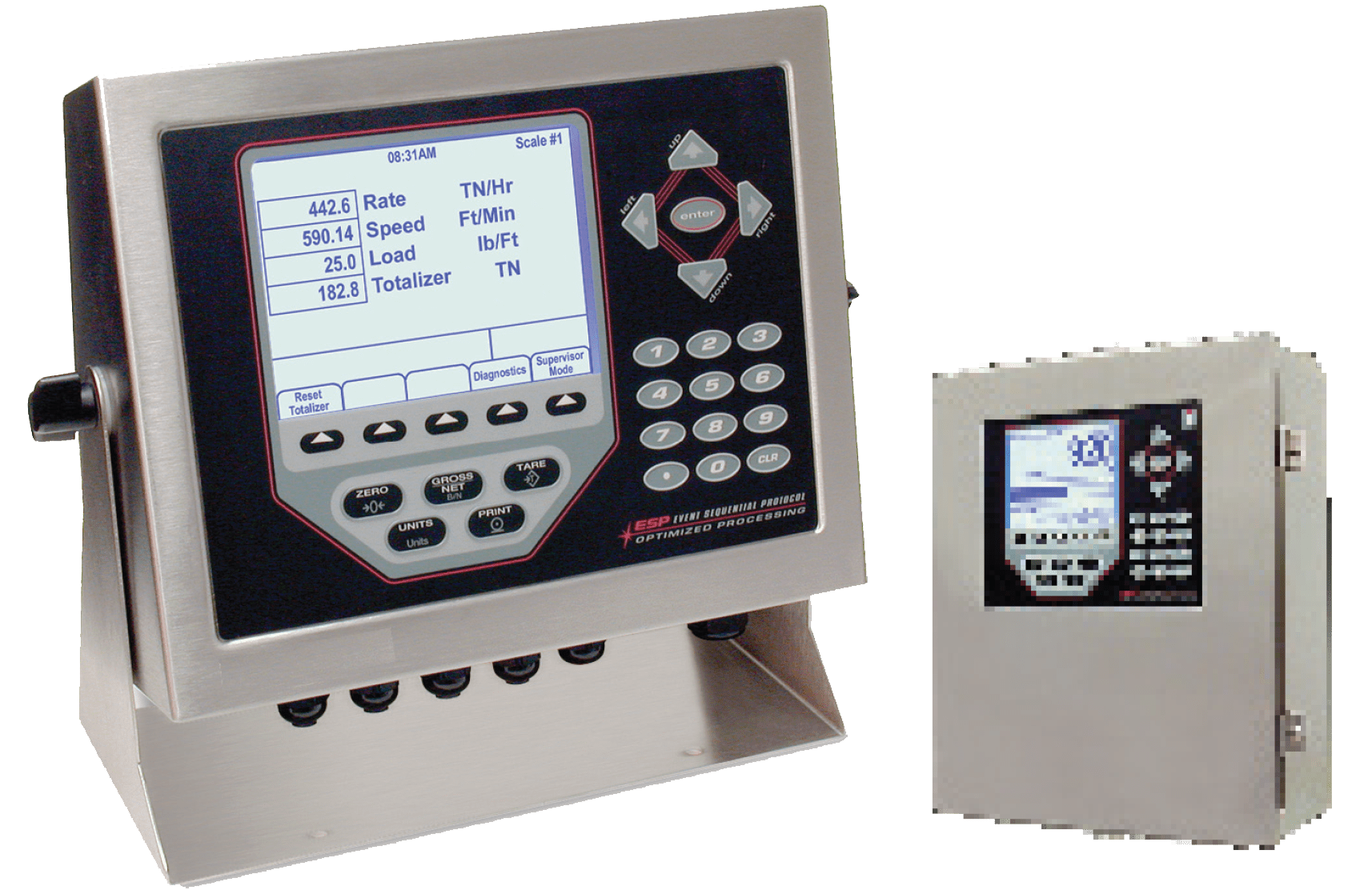 Standard Features
LCD display, (W x H) 4.6 in x 3.4 in
Selectable character sizes from 0.25 in to 1.2 in
60 configurable operator prompts
Display up to four scale channels per screen with required Legal for Trade information
32 scale accumulators
Five softkeys with 10 user-defined, 14 preset functions per screen
Ten programmable display screens
Millivolt calibration, five-point linearization and geographical calibration
NEMA Type 4X/IP66 stainless steel enclosure
Selectable A/D measurement rate up to 960/second
100 setpoints, 30 configurable setpoint types
Two slots for option cards
1,000-ID truck register for in/out weighing
64 K user on-board NV RAM
User programmable 128 K flash memory
Reflash memory to upgrade firmware
Power for 16 350-ohm load cells per A/D board
Local-remote indicators
Multi range/interval
Alibi™ storage
Audit trail tracking
Peak hold
Rate of change
USB Standard Features
USB interface card on Port 2
The USB card is supported on Rev L CPU boards or later
The 920i for USB interface requires firmware version 5.0 or higher
Connector Types:

Standard Type A: 920i connects to keyboard,

ASCII font label ticket printers and flash drives
Standard Type B: 920i connects to PC
USB Interface Functions:
Supports weigh mode and configuration mode functions
Supports upload of databases and .920 configuration file
Supports download of databases, .920 configuration file, iRite, COD file and firmware file
Sanity checks for command errors
Flash Drives:
Supports USB 2.0
Create subdirectories by unit ID and database name
Use the root directory for generic files
Optional Washdown Connectors
Sealed receptacle
Connectors – cables
USB cover – flash drive and receptacle
---
Bulk Bag Unloader One Way Bag Splitter
---
Bulk Bag Unloader Dust Collection & Operator Bag Placement
---
Vibra Screw Bulk Bag Unloader / FlexiFeeder Soda Ash Test