1955
Vibra Screw was founded by Eugene A. Wahl as an out growth of his years of experience in materials handling. The basic idea on which he built Vibra Screw was to employ controlled vibration to move and meter dry bulk materials.
It is common knowledge that most liquids flow readily and most solids don't. Mr. Wahl's contribution to the state of the art was to design a feeder which permitted handling bulk solids as if they were liquids. His method: to overcome flow resistance by imparting motion to the material through controlled vibration. It sounds simple, as many "basic" inventions do, but no one else had thought of it before.
His invention, a vibrated screw feeder, on which he obtained patents, produced a new order of accuracy in volumetric feeders. But another problem arose. As feed rates got higher there was a need for larger supply hoppers and discharging these on demand created the need for another device entirely: "The Bin Activator".
It soon became apparent that the accuracy of Vibra Screw feeders was often directly and adversely affected by an uncontrolled, external factor: the spasmodic flow of materials from storage. A whole vocabulary has been devised to describe these problems: agglomeration, clogging, packing, jamming, arching, bridging, plugging, piping, and ratholing.
In the years that followed, the company's experience has been that bulk materials as a rule become flow resistant in storage, and that to install a storage bin without a vibrated bottom is to risk production failures.
Over the years through extensive testing the "Bin Activator" took many forms. through extensive experimentation in design. The result was our invention and patenting of the Bin Activator, which has since achieved a rare degree of industry acceptance, with more than 100,000 successful installations around the world, in virtually every known process industry.
The flow of ideas has been a continuing one at Vibra Screw. To meet expanding requirements of the pulp and paper industery, we developed the world's largest Bin Activator, an 18-ft diameter unit. The world's largest Storage Pile Activator, at 16-ft, has special usefulness in moving large quantities of coal and aggregate out of storage.
1959
1959 Technology and Development
Vibra Screw created the first Bin Activator test facility in 1959.
When we invented the Bin Activator we started out with the side discharge design than moved to the cone shape, the "funnel" of conventional storage bins and applied vibration to it.
Further testing confirmed that the compound shape of an ASME dished head with steeper angle lower cone not only provides superior performance but superior construction design.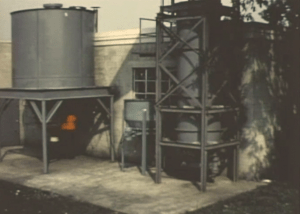 1961 – 1970
1961 – 1970 Technology and Development
Development of Vibrating Continuous Blender, Bin Activated Hopper Systems (Live Bottom Bins & Live Bins), Volumetric Belt Feeders.
Between 1964 and 1980 Vibra Screw won the Chemical Processing Magazine pretigious Vaaler Award 9 times
1970 – 1975
Development of precision weigh belt feeders using Bin Activator prefeed technology
1979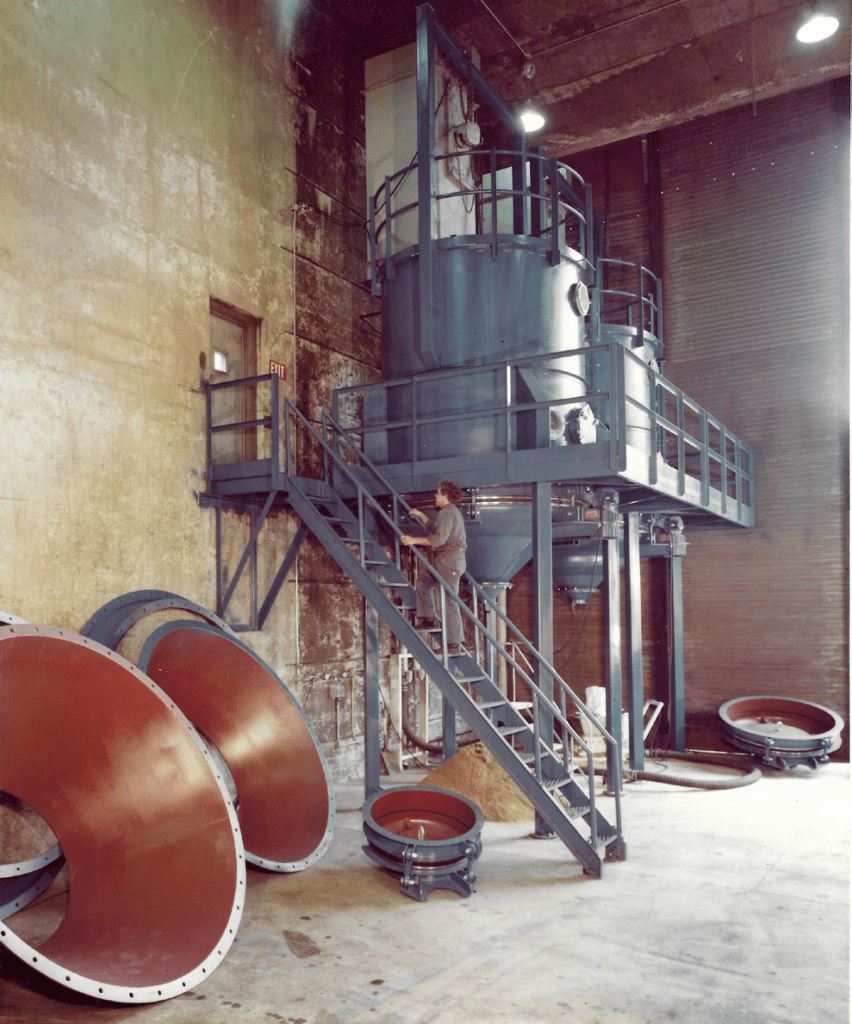 In 1979 Vibra Screw built its second generation Bin Activator test facility. Located at the company's Fairfield,
NJ building which also housed its particle processing test lab and large capacity manufacturing site.
Two 8 ft diameter, 500 ft3 storage bins designed to accomodate Bin Activator sizes from 8 ft to 3 ft diameter. Test materials could be dischaged to a number of feeding devises and transfered from one bin to the other using a positive pressure pneumatic conveying system.
Material flow could be monitored and variations in baffle design, vibration amplitude and frequency changes, support hanger and flexible sleeve design that directly affect the Bin Activator performance could be changed.
1980 – 1985
Development of low cost Vibrated Volumetric Feeders, license arrangement with AEG to manufacture Vibrating Tube & Pan Feeders and Vibrating Screens.
In 1981 to meet the expanding requirements of the pulp and paper industry, Vibra Screw built a free-standing test system at its Totowa, NJ facility which included a 10 ft diameter storage bin equipped with 10 ft Bin Activator, bucket elevator for bin refilll and chip meter (not shown) to regulate material flow simulating actual wood chip installation.
We developed the worlds largest Bin Activator at 18 ft specifically for the unique stresses and high temperature applications of the pulp & paper industry.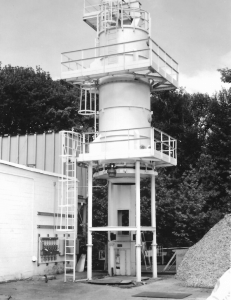 1985 – 1995
Development of Versi Feeder modular feeder line, Bulk Bag Unloaders, Bulk Bag Fillers, Loss-In-Weight and Batch Feeders.
1995
Development of AccuFeed molded composite feeder line, Bin Activator refinement including clean flow no cross arm design, variable rate design, OEM design.
1996
OEM Bin Discharger is a bin activator made from a rolled single slope cone. We use it predominantly in smaller sizes up to 6 ft diameter.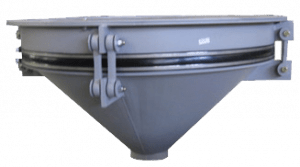 2003
Development of Mini VersiFeeder
Mini Versi Feeder
2005
Development of Flexifeeder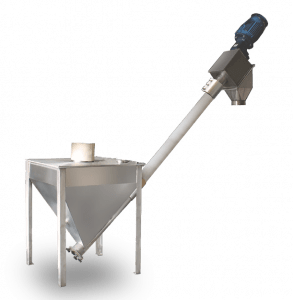 2015
Vibra Screw Expands Vibrating Feeder and Conveyor Line
Vibra Screw Inc. has substantially expanded its vibratory feeder and conveyor lines through an exclusive license agreement with Mavi Maquinas Vibratorias Ltda, Brazil. The agreement, covering North America, gives Vibra Screw access to Mavi's 50 years of experience which has made it the largest supplier of vibrating feeders and conveyors in South America
2017
Development of HDBD Bin Discharger
Vibra Screw has introduced a line of Heavy Duty Bin Dischargers for large silos. These machines offer the advantages found only in Vibra Screw's patented dished head Bin Activators at lower cost.