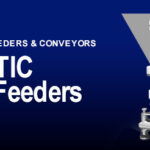 In developing the Bio-Septic Feeder, Vibra Screw had at its service 50+ years of feeder experience and enlisted collaboration with micro-bacteriological specialists (pharmaceutical processors and equipment designers) to produce a sanitary feeder that is: functional, accurate (reliable/repeatable), easy, quick and effectively cleaned. Bio-Septic is a screw feeder that guarantees the pharmaceutical processor, and all sanitary material handlers, flexibility of selection and aseptic security.
Sanitary Construction
All stainless steel construction, internal and external, assures total non-corrosive and non-contaminated surfaces. Bio-Septic boasts carefully designed and polished surfaces (the entire machine, not just contact surfaces) to eliminate every crevice and bacteria trap.
Multiple motor options to choose from: multilayered, stainless steel finish coating process specifically for sanitary wash down or all stainless steel construction are optimally suited to the specific conditions of the pharmaceutical industry.
Simple Disassembly and Reassembly
To assure the least interruption of any sanitary process, Vibra Screw designed the Bio-Septic to be disassembled easily and rapidly without the need for hand tools. Cleaning and sanitizing with solvents, steam or detergents is a rapid procedure with the Bio-Septic modular design, so reassembly follows quickly.
SCREW SIZE VOLUMETRIC RATE CAPACITY  
1/4"   0.00037 to 0.037 ft3/hr
3/8"   0.01 to 0.10 ft3/hr
1/2"   0.024 to .24 ft3/hr
5/8"   0.052 to 0.52 ft3/hr
3/4"   0.1 to 1.0 ft3/hr
1.0"   0.28 to 2.80 ft3/hr
1.5"   0.88- to 8.8 ft3/hr
Material of Construction:
Contact Surfaces 304 or 316 stainless steel
Non-Contact Material: 2304 or 316 Stainless Steel
All welds Continuous and ground smooth.
All surfaces polished to #4 finish or electro Polish
Quick Release Hand Knobs
Motor/Drive
DC-SCR controlled ¼ hp TENV , 115v, 1 ph, 60 Hz, Bio-Septic Finish or all stainless steel motor construction. Controller mounted in NEMA 4/12 enclosure, NEMA 4X optional.
AC/VFD controlled TENV 230-460 v, 3 ph, 60 Hz, All stainless steel motor construction. VFD mounted in NEMA 12/4 enclosure with NEMA 4X optional.
Feed Tube and Screw
Straight, horizontal/end discharge. Down spout, vertical discharge, wire or flight screw
Supply Hopper:
Standard  ¼ ft3 capacity hopper. Hopper extensions available as an option with cover.
Optional Features:
Trough Vibrator, 115v, 3ph, 60Hz, Conditioner Screw  in feed trough.