Vibra Screw Expands Vibrating Feeder and Conveyor Line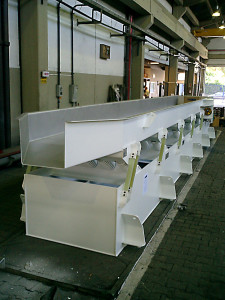 Vibra Screw Inc. has substantially expanded its vibratory feeder and conveyor lines through an exclusive license agreement with Mavi Maquinas Vibratorias Ltda, Brazil. The agreement, covering North America, gives Vibra Screw access to Mavi's 50 years of experience which has made it the largest supplier of vibrating feeders and conveyors in South America.
Using the latest resonant conveying technology, Vibra Screw can now offer vibrating conveyors up to 50′ long and rates up to 8000 ft3/hr. The agreement also expands Vibra Screw's range of vibrating spiral elevators, vibrating pan and tube feeder, and vibrating screens. With the right to manufacture all Mavi products in the USA, Vibra Screw will be able to offer their proven technology in U.S. made products.