Heavy Duty Volumetric
Screw Feeders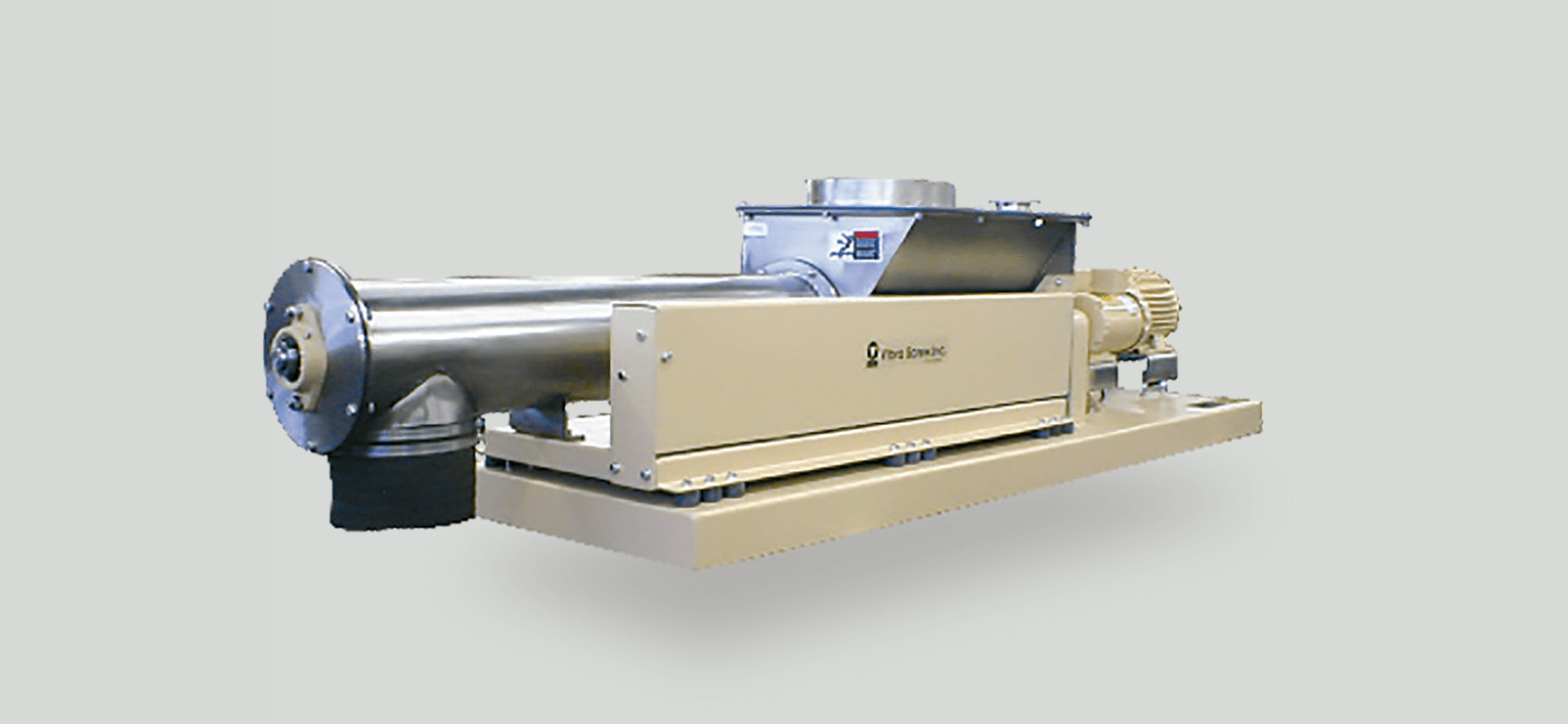 Versatile and Rugged
Heavy Duty Screw Feeders are extremely versatile. One unit can precisely meter many different materials with little or no adjustment. When necessary, adjustments can be made quickly and easily. Screws and tubes can also be changed on some models for a wider range of feed rates.
All feeders are fabricated of high strength steel and contain only a few moving components. They are built to operate continuously with only a minimum of maintenance.
Unique Operation
Because maximum feed accuracy is dependent upon positive material flow from storage, we designed these Heavy Duty Screw Feeders for use beneath bulk storage hoppers. Hoppers that pack or bridge should be equipped with a Vibra Screw Bin Activator to ensure consistent material flow to the feeder.
In operation, the feeder trough, screw and tube are subjected to continuous controlled vibration. This permits the material to move gently from the upper section of the trough to the feed screw without bridging, packing or flooding. Vibration further conditions the material to a constant bulk density and ensures that each flight or pitch of the screw is filled to its maximum in the filling area and completely emptied at the discharge end. The positive displacement of material is further ensured through the use of a rotating solid flight screw.
Rugged Construction and High Accuracy
Rugged construction to operate 24 hours a day, Vibra Screw's line of volumetric Heavy Duty Feeders will meter even the most difficult materials in an extremely reliable manner.
A patented controlled vibration principle ensures exceptional accuracy of ± 1%, minute-to-minute. A wide variety of products, from long fibers to micron-sized particles, and materials with bulk densities ranging from 2 to 200 lb/ft3 can be successfully handled with precision.
Application Experience
From 1956 until the present, our material handling experience allows us to provide solutions for your special requirements which can be found among our thousands of applications, world wide.
This permits us to offer the best guarantee in the industry.
How Controlled Vibration Improves Your Operation
The operating principle of a vibrating Screw Feeder can be compared with the repetitive filling and emptying of cups. Most accurate filling occurs when the cup is filled with material (1), vibrated to obtain uniform density (2), and the excess struck off (3).On emptying (4), vibrating the cup also ensures complete release of the material.
In our vibrating Screw Feeders, the same process occurs. Material fills the screw flights in the trough area
is vibrated to a uniform density
and is struck off
as it enters the metering tube. Vibration of the metering tube and screw
ensures complete release of material at the discharge end.
Successive weighing of material samples will show volumetric accuracies of ± 1.0%. The gravimetric Loss-In-Weight controller easily refines this; providing gravimetric accuracies as great as ± ¼%.
The vibration also greatly reduces feed pulsation. At discharge, it produces a precise cutoff of flow at the end of the batch cycle without material overrun. Irregular free-fall of material overrun is the greatest source of batching error. The controlled vibrating Feeder eliminates this error and greatly enhances accuracy.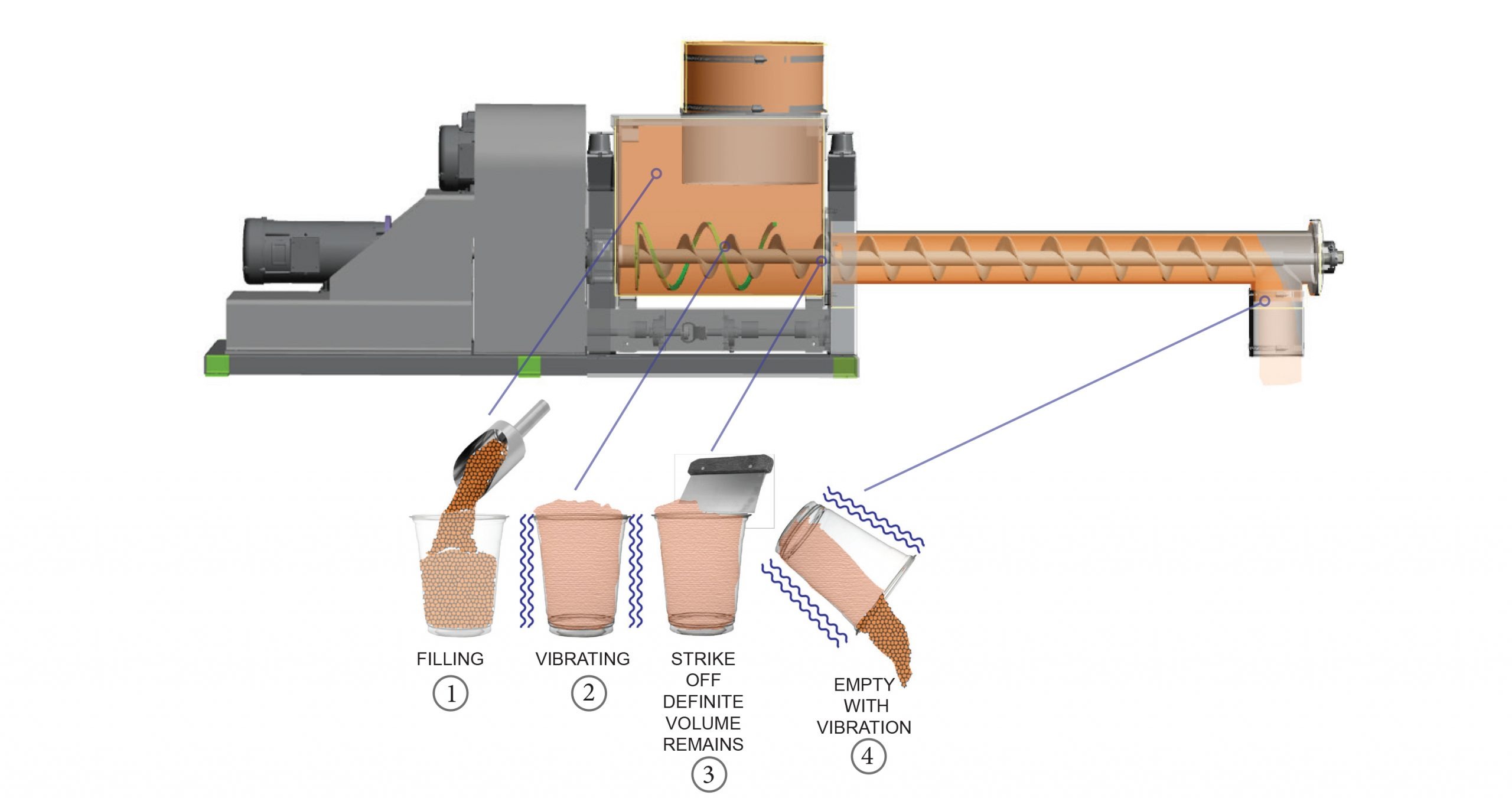 Model Heavy Duty Model HD-2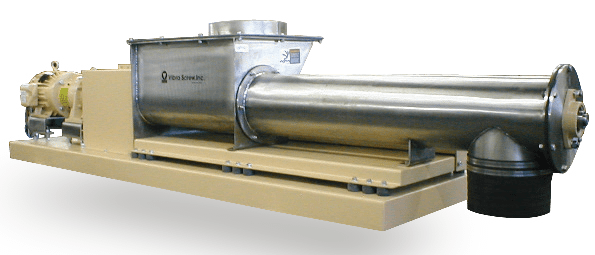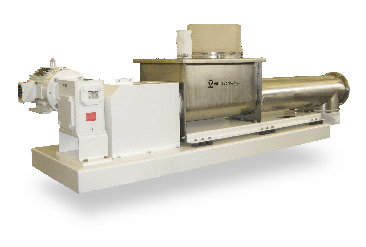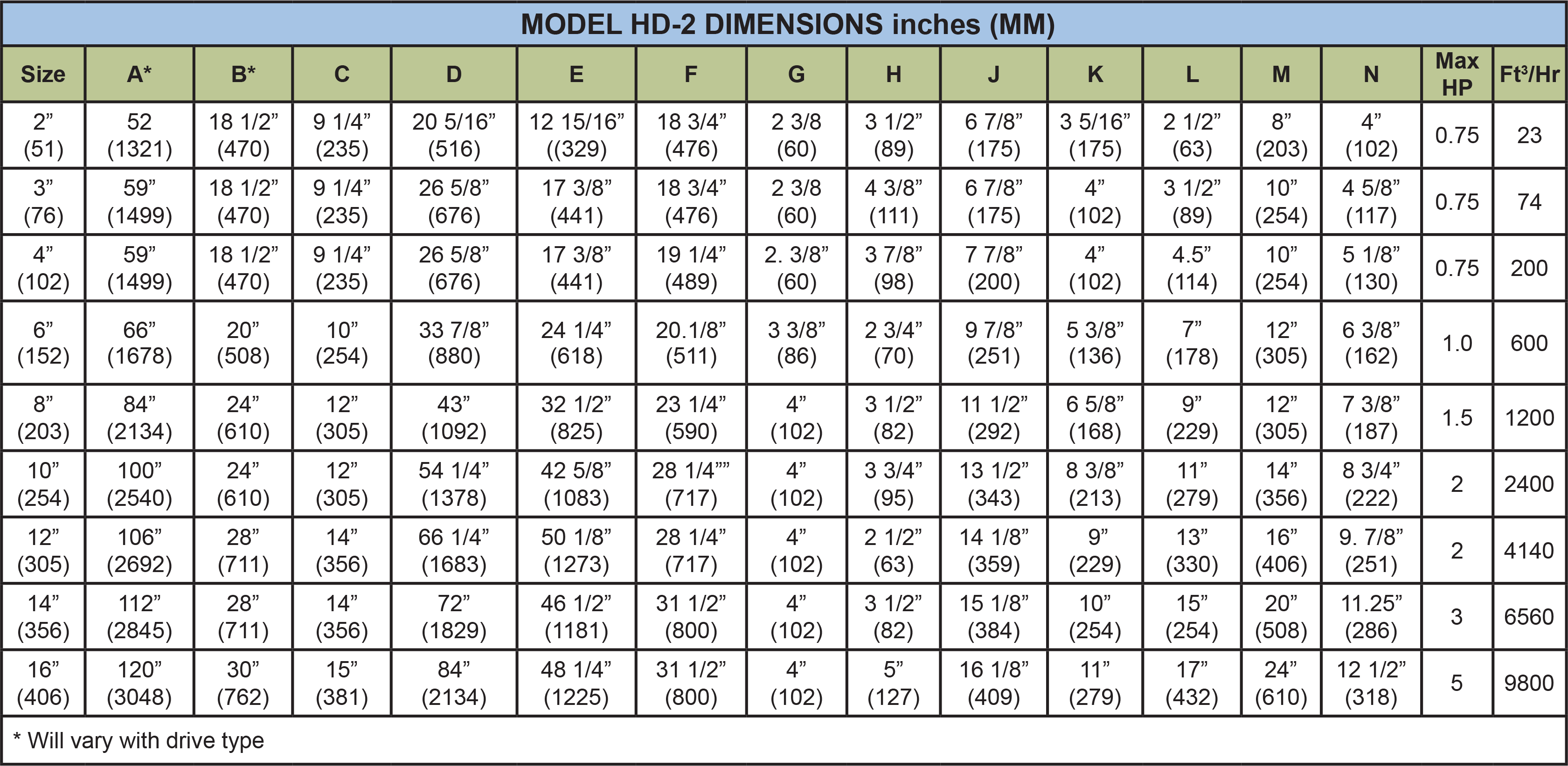 Specification for Heavy Duty Feeders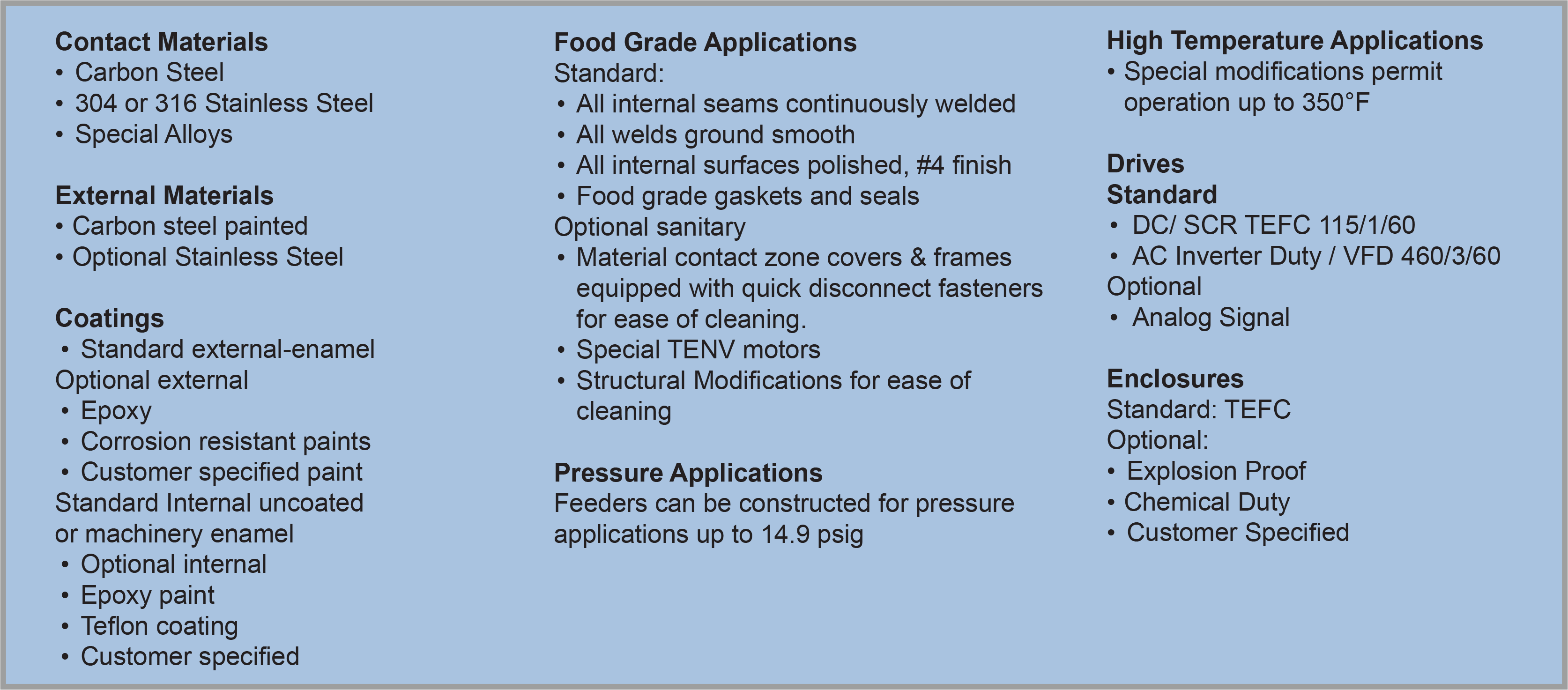 Heavy Duty D.E. Feeder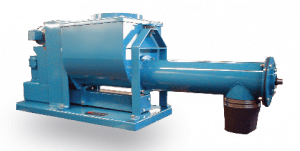 Diatomaceous earth is a dry powder, often used as a filter medium, that has a tendency to pack into lumps, especially when moist. It is a finely divided product that is pressure sensitive and weighs approximately 7 lb/ft3 aerated and 17 lb/ft3 packed.
Feeding this product introduces many problems; bridging and agglomeration make it hard to maintain a continuous flow and achieve the desired accuracy.
After extensive testing and consultation with specialist in the field, Vibra Screw developed the D.E. Feeder– a special, heavy duty vibrating screw feeder with a "U" shaped open trough, especially designed to handle diatomaceous earth. Instead of the usual single screw, there are two: a large overwrap screw eliminates bridging and force feeds a second smaller feed screw inside.
In operation, the feeder trough, screw and tube are subjected to continuous controlled vibration.
This permits the material to move gently from the upper section of the trough to the overwrap without bridging, packing or flooding. Vibration conditions materials to a constant bulk density and ensures that each flight or pitch of the screw is filled to its maximum. The screws rotate together, forcing the diatomaceous earth to feed with each rotation.
The Vibra Screw D.E. Feeder has been so successful, it is now recommended to customers by most D.E. manufacturers.
The D.E. Feeder is designed to meter diatomaceous earth with accuracies of ± 1-2%. It is available in 1" to 6" screw sizes. Screw speed, which along with screw diameter determines the feed rate, is variable in step-less increments over a 20 to 1 range.


Heavy Duty Metering Conveyors (non vibrating)
The Vibra Screw Metering Conveyor provides extremely reliable & economical feeding of a wide range of dry bulk materials. Standard units are available from 4 to 16 inches for a capacity range of 20 to 9,800 cubic ft per hour.
Extended screw lengths of up to 12 feet from center of inlet to outlet permit the unit to meet most short distance conveying needs.
Equipment System Integration
When combined with vibratory pre-feed equipment such as a Vibra Screw Bin Activator, or Live Bin, the Metering Conveyor will deliver minute-to-minute feed accuracies of ± 2%. The pre-feed equipment ensures complete filling of the screw flights with uniformly dense material.
Rugged Construction
Construction is simple and rugged with heavy duty transmission, sealed and greased bearings, and a solid flight screw with through shaft and trough end seals.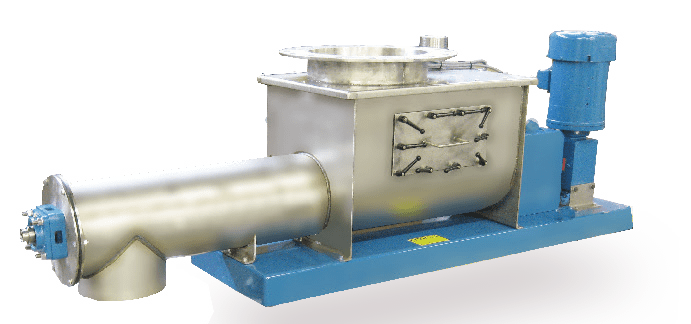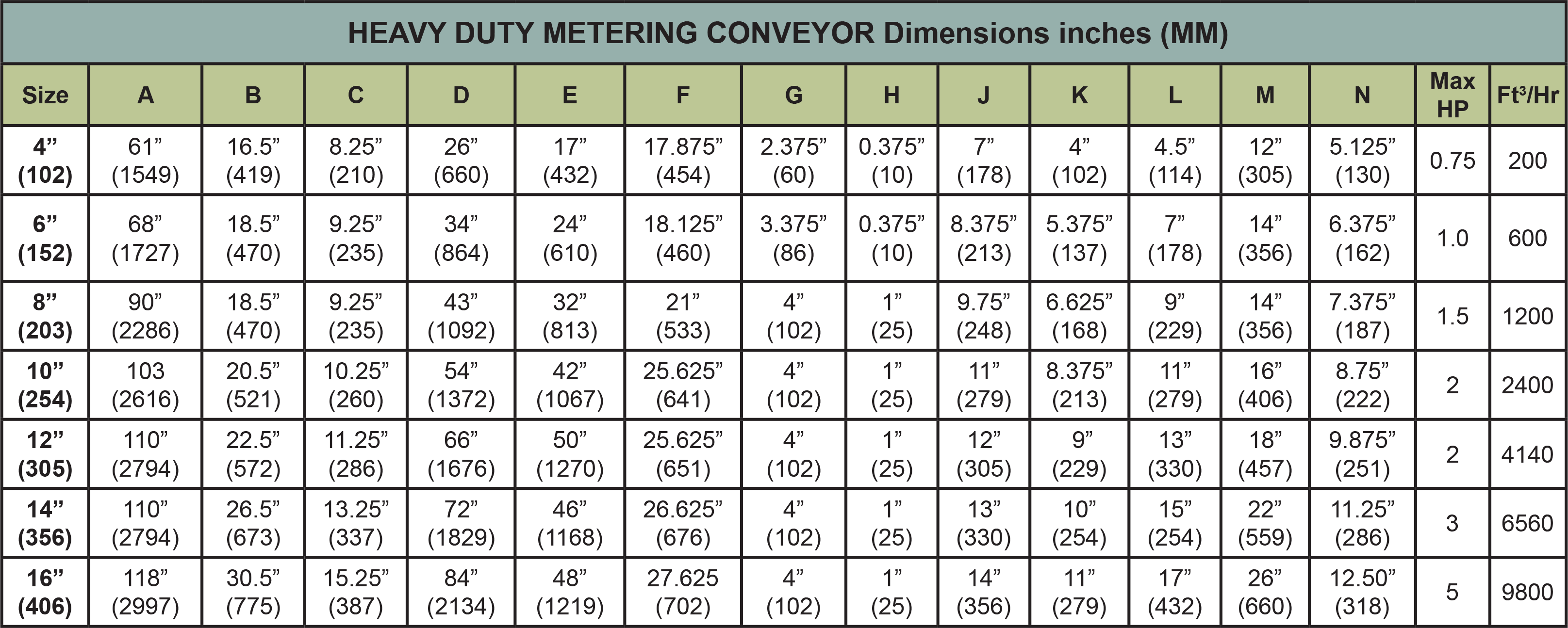 Case Histories
Product News
TOTOWA, NJ — Vibra Screw, Inc., a leader in solids processing and solids handling solutions, has been awarded a mid-six-figure contract with the People's Republic of China to supply Bin Activators and Heavy Duty Feeders for a coal conversion plant in Inner Mongolia, it was announced by Gene Wahl, Vibra Screw President.The owner of the […]
Vibra Screw, Inc., a leading manufacturer of equipment and systems for precision processing of dry bulk materials, has introduced a completely packaged system that simplifies the wetting and metering of activated carbon in water treatment systems. Vibra Screw's continuous duty system includes a bulk bag unloader, volumetric screw feeder, educter and cone wetting unit for […]